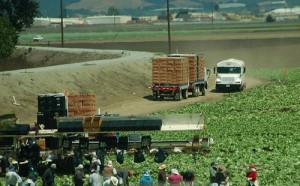 My political leanings are far to the left, and I am very passionate about workers' right. I am disgusted when employers provide water for their farm workers because they legally have to, but then they intimidate those workers not to drink the water or take bathroom breaks. Farm workers die in the California heat every year due to exploitation by their employers. It's despicable when employers lure foreign workers here with the promise of a good job, only to perform the bait and switch with low pay, no vacation, and simple theft of wages and tips. And don't get me started about Wal-Mart's "labor relations" – forcing employees to work off-the-clock, violating the FMLA, and not allowing their employees to take federally mandated breaks.
If one more person tells me that employment is voluntary and that if you don't like the work you don't have to do it – I'm going to scream.
Let's take a look at the unemployment levels in the United States right now. The economy has claimed the jobs of highly skilled, intelligent, hard-working individuals everywhere.  Those workers are now fighting for unskilled jobs that they are quite overqualified for just to pay for food and shelter. What happens to the unskilled workers who need those jobs, too? That's right – they're forced into the even less desirable jobs. Unsavory employers take advantage of this, knowing that they can treat their employees poorly because the workers need the money too badly to leave the only job they could get.
The sad truth is that many people are ignorant of workers rights for a variety of reasons, whether it's a lack of education or active spreading of disinformation by previous employers. It is not the employee's fault when they are taken advantage of by their employers.
The Exploitation of Independent Contractors
Last week, I wrote ranted about Matt Cutts and his approval of using Amazon Mechanical Turk to hire exploit linkbait researchers. Some people claimed that I blew the video all out of proportion and accused me of manufacturing controversy for self-promotion. They were very wrong.
I worked as an independent contractor for many years. And it is absolutely unbelievable that I ever put up with some of the terms I accepted in exchange for my pay.
I was a mystery shopper for a few years – never as a full-time gig, but for extra money. I made $8 (total, not per hour) for spending a minimum of 30 minutes inside a fast food restaurant and filling out a 15 page multiple choice survey that included a narrative of the experience. I was not reimbursed for my gas or my driving time. By the time I'd submit the shopping survey, it had been an hour and a half… not to mention taking the time beforehand to memorize all the details I wasn't allowed to write down during my evaluation. Not even minimum wage. I'd get invitations to perform shops that paid $5, even though I'd have to drive 30 minutes each way to get there! I didn't take those, but someone did.
I worked as a Cha Cha guide for about a week. Having already worked as a quality rater, my search skills were fantastic. I was fast and efficient… and I still wasn't making even $4 an hour. After I quit working for them, I read that they lowered the pay rates for their guides. Unbelievable.
And of course, there's my stint as a Google Quality Rater. While I can't tell you what I did for them, I can tell you how the job was structured. I worked for 12 months before I was forced to take a  three-month hiatus. I was then hired back to work another 12 months… never to work for them again. The pay wasn't bad, at least I didn't think so at the time. But the effective layoff in the middle of my two terms? Let me refer you to the Microsoft permatemps lawsuit.
Back in 1996, a class action lawsuit was brought against Microsoft by temporary workers who had been working for Microsoft for an extended period of time without being granted employee status. You see, employees earn benefits, while temps do not. These "permatemps" were denied the benefits they should have received because of the length of their service with the company. The court ruled in favor of the temps, saying they should have received the same benefits as the employees who were only different from them on paper.
So Google, in its multi-billion dollar wisdom, decided that they'd save money on benefits and potential lawsuits by precluding any chance of their temps to claim employee status. It always seemed a stupid decision to me, considering all of the confidential information covered by the Quality Rater NDA. I mean, I've never broken mine, but other disgruntled ex-temps certainly have, or a previous version of the Quality Rater Guidelines would never have been leaked.
I was not exploited by Google, but I was certainly unhappy about the fact that I couldn't continue  working for them. As the end of my second term with them drew closer, I remember thinking I would happily sign whatever they wanted me to sign to keep working for them and be able to stay home with my son.
That is exactly the  sort of thing that unscrupulous employers prey on. Women who want to work at home so they can stay with their kids. People who don't understand their rights as workers. People who don't read contracts before they sign them. (Yeah, not a smart move, but not everyone out there is smart. And that's not their fault.)
Companies hire independent contractors or freelancers to avoid paying benefits. I'm not talking about intermittent work that doesn't require a dedicated employee – I'm talking about ongoing work that should constitute employment. Instead of paying their independent contractors a higher wage because of the money they save on benefits, some unscrupulous companies pay these workers less than they pay employees who perform similar tasks. Too often, the independent contractor won't argue because they feel "lucky" to have the job in the first place.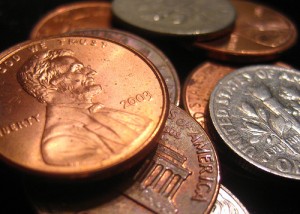 Many independent contractors work for modern day slave wages – and it's still perfectly legal because there is no hourly wage to meet the federal minimum wage regulations. Take my experience with Cha Cha for example. Or those low-paying mystery shops. On sites like Elance, writers bid $2 to write 500 word articles because that appears to be the going rate. No one's researching and writing 3.5 of those articles each hour to reach the $7.15/hour federal minimum wage.
Writers and other independent contractors may not even realize how poorly they're being paid for their work. Consider mystery shopping – some companies tout making over $100 an hour because they offer $8 for a "quick retail evaluation." Sure, if you only count your time in the store, your hourly wage goes up. If you count the time it took to read over your instructions, drive to and from the location, and complete your report, you're coming up quite short in the hourly pay. And if this is only part time work, the actual hourly wage is rarely considered. It's extra cash for them, so they don't scrutinize it.
If someone is working for "extra cash" and not a primary source of income, that is not an excuse for companies to exploit them.
Aside from the "no one's putting a gun to your head to keep a job" excuse, the "pocket money" argument comes in a close second for people who think it's acceptable to rip off independent contractors. Or because people enjoy doing the work. Umm, I like my job, but you still need to pay me for writing for you. Thanks. You like your job? Would you do it for free? I thought not. (If you're independently wealthy, this does not apply to you. The other 99% of us are not, and we have to work for a living.)
And then, of course, there's the "it's not illegal" argument. Well you know what? Maybe it should be illegal. Independent contracting is being used as a loophole to sidestep federal minimum wage laws.It's despicable.
Yeah, so independent copywriters and online workers – freelancers – are not toiling away in the strawberry fields (forever) or locked in a sweatshop making hoodies until their fingers bleed. The working conditions are better, but the exploitation still exists. People deserve to earn a living wage. I can hardly believe that $7.15/hour is considered a fair wage these days, but how can anyone be expected to live on less? Food, shelter, electricity, health care… It's freaking expensive.
How Can You Help Independent Contractors?
If you're a company who utilizes freelancers or independent contractors, take a minute to look at how you're paying them. Are you paying a nickel for someone to complete a 10 minute task on Amazon Mechanical Turk? How generous of you to pay 30 cents an hour. Would you work for that? Would you let your spouse or kids work for that? I thought not. I urge you to pay your independent contractors a living wage – I do.
I'm looking for an organization to work with to create an action alert that would allow people to click and send letters to their elected officials encouraging legislation to support fair wages for independent contractors. I'll draft the letter pro bono. Get in touch. I'm not playing here. I'm not kicking up a fake controversy for the fun of it. I mean business.