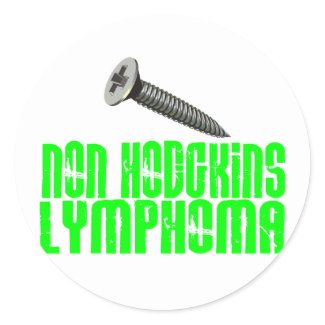 I've been a bit out of sorts lately because we found out a month ago that my dad has cancer. He'd gone to Urgent Care because he had trouble swallowing. His voice sounded funny, too. Urgent Care sent him to an ENT straight away. That doctor told him later that he presented like someone with throat cancer, but when he'd looked down his throat, it looked like he had a smooth cyst, so he didn't mention cancer. He just got him scheduled for surgery to remove the cyst.
When he went in for surgery the next week, what was supposed to be a 20-minute procedure took about an hour and a half because they were having difficulty getting the tube down his throat because the mass was so big. It wasn't smooth like the doctor had originally thought; it was spongy. So when the doctor came out to talk to my mom, he told her quite certainly that it was cancer.
The doctor removed the 3x2x1 cm tumor and sent it out for biopsy. At his follow-up appointment, we learned that he had non-Hodgkin's lymphoma, but anything more specific required more testing. An appointment was made with an oncologist at New York Oncology Hematology (NYOH).
My dad had a whole battery of blood work and other tests run, including a CT scan and a PET scan. He was typed as having Mantle Cell Lymphoma, a rare  form of cancer that accounts for 6% of all lymphoma patients, with only 3,000 cases diagnosed in the United States each year. For comparison's sake, there are only 2,000 new cases of mesothelioma diagnosed in the U.S. each year, and that is an extremely rare form of cancer that most people only know about because lawyers are always looking for patients to represent.
For a week or so, we thought he might be Stage 1. The oncologist was baffled not to find the lymphoma jumping out at him in some of the scans that came back. There were a couple of enlarged nodes that might be cancer, but the areas are too hard to biopsy.
This week, he had an endoscopy and colonoscopy. The gastroenterologist – a young blonde woman who he nearly called Barbie in his Demerol stupor – removed some polyps from both his stomach and his colon, but as he'd never had this done before, it's possible they're just benign. We're still waiting for the biopsy results on that.
He had another appointment with his oncologist this morning. The good news was that there was no cancer found in his bone marrow. The bad news was that further review of his PET scan indicated that those nodes in his abdomen likely are cancer, and that puts him at Stage 3 cancer. If the biopsied polyps come back as lymphoma, that will put him at Stage 4. Mantle Cell Lymphoma is staged based on finding the cancer on both sides of the diaphragm.
That news was hard to swallow. My mom had a scare when she accompanied him to the bathroom after his appointment. She said that all color drained from his skin, his eyes took on a vacant expression, and he started falling toward the wall. She tried slapping his face, the way they do on TV, but he did not respond. She shouted for help, and medical personnel started running. My dad has no recollection of any of this. It may have been an episode of vasovagal syncope, something I've actually experienced previously. He's been very strong and very positive all along. I don't think anyone was expecting him to go from Stage 1 to Stage 3 at this point.
This afternoon, my parents are attending a chemo class. They're going to be learning all about the R-CHOP regimen he'll be starting on Monday. R-CHOP is a combination chemotherapy treatment (Rituximab, Cyclophosphamide, Hydroxydaunomycin, Oncovin, Prednisone) that seems to be the simple standard for Mantle Cell Lymphoma. The oncologist decided against the aggressive treatment he'd initially recommended because it would require a week in the hospital each time, and based on my dad's age and health, this seemed the better way to go. The aggressive treatment would likely make it impossible for him to have the bone marrow transplant later on that could cure his cancer. Mantle Cell Lymphoma almost always comes back, but a bone marrow transplant could stop that from happening. We're holding onto hope that he can have that done after a successful round of chemo.
The problem with R-CHOP right now is that there is a national shortage of one of the five drugs – vincristine sulfate (Oncovin). When he starts chemo on Monday, he will not be receiving this drug due to lack of availability. I really hate to think that he'll be unable to have all of what his oncologist seems to think is the best course of treatment for him. And it's not just his doctor's opinion – the oncologist was also consulting with his colleagues at Sloan-Kettering and Dana Farber.
I'm hoping the drug becomes available soon. This cancer needs to be knocked out. It's a very aggressive cancer; the tumor has already grown back after his surgery, enough that he's having trouble swallowing again and his voice sounds more nasal than it should. In just a matter of weeks. I'm told that more aggressive forms of cancer are more responsive to chemotherapy, so I'm hoping that holds true.
If you pray, please keep my dad and our family in your thoughts. If you don't pray, if you could send some positive thoughts in our general direction, that would be appreciated. He's already on prayer chains around the world, and I'd like to keep it going.
If you're so inclined, especially with the end of the year coming up, when most of us are trying to sort out our charitable contributions, please consider making a donation to the Lymphoma Research Foundation (LRF).Your donations are tax-deductible, as the organization is tax-exempt under section 501(c)(3) of the Internal Revenue Code.
My dad is still fairly young, which gives him a better chance at fighting this cancer. I've already had moments of despair, but I'm not giving up hope that he's going to beat this. I'll keep you posted.
November 15, 2010 Update: My dad  completed his first chemotherapy treatment. Seven and a half hours, but he did great.
November 19, 2012 Update: My dad has been in remission for over a year now. He has what's called indolent lymphoma in his colon, but it isn't currently doing him any harm. He had a PET scan earlier this month to prove it. He has always been very positive, and he believes that the prayers of so many helped him to beat this thing. I am truly grateful for all of the support we've had.