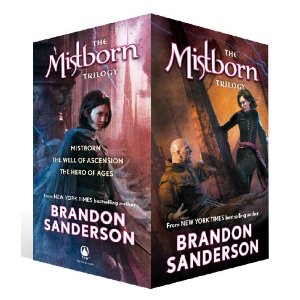 I'm an avid reader, and my favorite genre is fantasy. Most recently, I devoured the Mistborn trilogy (Mistborn, The Well of Ascension, The Hero of Ages) by Brandon Sanderson. I never would have picked them up if Sanderson hadn't been chosen to finish Robert Jordan's Wheel of Time series after the author's untimely death to amyloidosis, but I couldn't put the books down once I started.
There was a major problem, though. The books made me angry.
And after finishing the third novel Friday night and finding myself unable to fall asleep for two hours because of how much I hated the ending, it got me thinking about why it bothered me so much. These are things that writers really need to keep in mind. (With an actual book review at the end that many of you will choose to skip. And psst… that image is an Amazon affiliate link in case you'd like to buy the set and see what I'm talking about.)
You need to relate to your audience.
This is something that Brandon Sanderson got right. In fiction, relating to your audience is done by creating characters that your readers can become invested in. I was sucked in to the strange world of the Final Empire because I was so drawn to Vin, even though the setting was so completely foreign to me. (And as a fantasy reader, it takes a lot for a setting to just seem so odd.)
If you're not writing fiction, this rule still applies. You have to give your readers a reason to care about what you've written, or else they're just not going to bother with it. Writing to promote a product? A news story? Make sure people see why they should care about it in the first few lines. If they're not feeling it, they're not going to continue reading.
Once you know the rules, you can break them. But only in moderation.
I just broke one of the rules of writing up there with a sentence fragment. Sentence fragments may be grammatically incorrect, but they have a place in novels, blogs, etc. But if you start using them all the time, people are going to think you just don't have a clue about sentence structure, and it may become distracting enough that they just give up trying to read.
Sanderson got this one wrong. Fantasy authors can get away with a lot, since they don't have to create worlds with the same physical rules as our own. Readers have a pretty healthy suspension of disbelief, but there are still certain conventions that we expect to be followed. It's great to try a revolutionary new way of doing things, but if you go too far off in left field, you're going to lose people.
Make your point, but don't be repetitive or beat people over the head with it.
In web copy, it's easy to get this wrong. Sales copy can be overhyped, repeating the same things over and over in order to convince readers that they just can't live without some new product. SEO writers try to cram the same tired keyword phrases into a 300-word article, making it appear unnatural and not intended for human eyes. You can use those keywords a few times, but remember the readers – and it's far more user-friendly to use synonyms every once in a while.
There was one page in Mistborn where Vin, the female protagonist, was learning how to use the Final Empire's version of magic… But I swear I read the word burned 12 times in just two or three paragraphs on a single page. There weren't any synonyms because Sanderson used the term to explain how the magic worked. It was so frustratingly repetitive and hard to follow.
And then there was the whole theme of religion and faith in the book. Unfortunately, by the time I got to the end of the third book, I just didn't want to hear about it anymore. It had been beaten into my skull for two books, and I'd had enough. (Wheel of Time readers may sympathize with me about the countless descriptions of Nynaeve tugging her braid, or the maddening politics surrounding Elayne's claim to the Lion Throne of Andor over the last 12 books.)
There are red herrings, and there are big scarlet sharks with frickin' laser beams on their heads.
No one likes a story that is too predictable. Readers like their surprises. But if they discover they can't trust a single clue you've left for them because everything is some form of misdirection, that's just uncool. There was one particular mystery I figured out without having a single clue given to me – and it was one of those things like when you watch a crime drama and try to pick the least likely suspect to be the offender. I was right about it, just because I had a hunch that I was intentionally being led astray. But I was wrong about everything else. And it's very unsatisfying to learn that nothing has turned out the way you expected it to.
It took me a little while to figure out how this could apply to non-fiction writers. I think the main thing to remember is that – when you're not writing an epic novel where readers have invested in 100k+ words for the long haul, say what you mean. Don't keep people guessing too much, because if they never finish the piece, they're going to come away with the wrong idea.
Be compelling.
Sanderson got this right. I am fully admitting that the end of all three books in the series made me incredibly angry, leaving me very unsatisfied. Maybe it's still too soon to process my post-reading emotions, but I really did not like the trilogy.
And yet… I couldn't stop reading it. I kept reading because I wanted to know what happened. I wanted to see if it really would turn out alright in the end. I wanted to Sanderson to prove me wrong, that I would finally be able to forgive him after all for putting me through such torture in the first two books.
But I can't currently forgive him for that. I'm left unsatisfied by the plot resolution. I needed a good ending, and while some people may think they got it… I did not.
If you can write something so compelling that people can't stop reading despite their dislike of the subject matter or the way things turn out… You're a freaking great writer. But that doesn't mean people will keep reading what you write, if you can't eventually satisfy them. Even great writers can learn how to be better.
And that, my friends, it what Mistborn taught me about writing.
Spoiler alert.
If you just wanted the writing tips, you probably want to stop reading here. If you ever plan to read Brandon Sanderson's Mistborn trilogy but haven't gotten around to it yet, you definitely want to stop reading, because I will ruin the end of the series for you.
What I loved.
I loved Vin. She was flawed, but that's what made her endearing. I loved Kelsier. I loved Elend, Breeze, Spook, and so many of the other supporting characters. They were all so well-developed, not just two-dimensional heroes or villains. I loved the relationship between Vin and the other characters, particularly Elend.
I loved the idea of Allomancy. It took me 75% of the first book to be accustomed enough to it that it was no longer tedious to read about, but I think the invention of a system of magic involving metal was brilliant.
And that's where I get off the love train.
Religion.
Okay, Brandon Sanderson. I get it. The whole thing was about dogma. It wasn't about the characters at all. But the characters were what I loved. I didn't love Sazed's 700-page-long emo crisis of faith. I could appreciate the parallels to real-world religion – the deification of the Survivor after his apparent resurrection, the manner of his death becoming a symbol for the Church of the Survivor. But the third book's heavy religious content was just so unlike the first two books, it just felt wrong to me, like I'd been betrayed. (Oh, and by the way? I thought it was the "Hero of the Ages" until halfway through the last book. It just sounds weird the way it was actually written.)
Red herrings.
The whole freaking trilogy was one, long red herring. Alendi. The Lord Ruler. The Well of Ascension. The Deepness. Hell, Vin herself was the biggest freaking red herring of the whole thing. She's on the cover of all three books, and she wasn't the Hero of Ages? Are you kidding me? I read the series because of her. I became emotionally invested in her. Sure, she was deified for about 10 minutes at the end… but to make the culmination of the trilogy, the subject of the entire thing ended up being a secondary character who did nothing but sulk for the last 700 pages… NO. Just no. That is not a satisfying end. I felt sorry for Sazed when he lost Tindwyl, but I didn't care about him the way I cared about the other characters. I wasn't invested in him. And for him to become God? NO.
I felt cheated that I'd been misled the entire time. (Much like Vin must have felt when she realized Ruin had been manipulating her all along, but that's another story.)
The one thing I did figure out? Who the kandra had replaced in The Well of Ascension. The whole time Vin was trying to figure out which member of the crew had been replaced, I was suspicious of the suddenly friendly wolfhound at her side. I was onto you, TenSoon!
Breaking the rules.
One of the testimonials at the front of the book mentions how Sanderson used so many archetypes and fantasy standards in such an unconventional manner, praising his genius at doing what's never been done before. In my opinion, he crossed the line. He was too revolutionary.
Fine. He killed the male protagonist at the end of the first book. I guess that wasn't so new… Galdalf, Obi-Wan Kenobi – the master sacrificing himself is an old standby. Killing other secondary characters the readers had grown attached to? Bold. Many authors have a hard time killing beloved characters. Repeatedly telling the readers that everything from the previous book was a lie? Uncool. Killing the main character who appeared on all three covers in the trilogy? Whoa there. Replacing her with a character who hadn't been given much more attention than any of the other secondary characters? NO.
There's thinking outside the box, and there's totally disregarding the "natural" order of things. Readers have expectations, and we crave resolution. To resolve everything in a manner that goes against everything we'd been built up to hope for is a set-up for a big let-down.
I can't get over Vin not being the Hero of Ages. Yeah, she was Preservation's champion, and she defeated Ruin in the end… but she wasn't the Hero of Ages. Up until the moment she died and her body fell into the ash, I had been expecting her to defeat Ruin and go on to re-create the world. Not Sazed. He didn't earn that place in my heart.
Maybe I just get too emotionally involved in my books. I do tend to get depressed when I finish reading a particularly good book and I have to say goodbye to the characters. But this is really the first time that I was so involved in a book and it actually let me down. I've been disappointed by books before, but until now, they were books that I'd never really been able to get into in the first place.
I am very grateful that Robert Jordan left detailed notes about the end of the Wheel of Time series before his death. I can see that Brandon Sanderson has a lot of talent, but I do not trust him with developing his own plot.
Update (August 8, 2011): I got to meet Brandon Sanderson at last year's New York Comic Con, and he was happy to discuss my dissatisfaction with the ending of the series as he autographed several of the books my husband and I brought with us. He's heard the same complaint from other readers, and he explained the decisions he made. I told him I understood, but I still didn't like the fact that Sazed was the Hero. He was cool with that. (He's generally a cool guy, for the record! I do love fellow geeks.) I'm re-reading the series now in anticipation of The Alloy of Law
, and I can now read it with an appreciation for Sanderson's craft. The clues he dropped from the beginning were really quite masterful. I still wish Vin had been the Hero, but the entire setup for my disappointment shows me just how brilliant Brandon Sanderson is.