I started getting pingbacks from sites like Topsy a few months ago whenever I tweeted to promote a blog post I'd written on my mommy blog. I checked out Topsy and saw that it only showed a brief excerpt of my posts with a link back to my site along with all of their little bells and whistles that justify the site's existence.
I thought that the pingbacks from Ubervu meant that they were the same sort of deal. I was wrong.
I don't know what compelled me to click the link yesterday, but I went to see what Ubervu had to say about one of my posts yesterday…
And I found my post there in its entirety. With the entire comment feed as well.
The one thing I can say for them is that they're taking me seriously about taking my content off their site as requested. I'd sent them an initial email yesterday about the problem, and they responded that they would remove me from their site, but I still found some of my pages there this morning, as recently as 5 minutes before starting this post. After a second email and some tweets back and forth, the posts were removed before I could go back for screenshots.
Their justification for this content theft is astounding.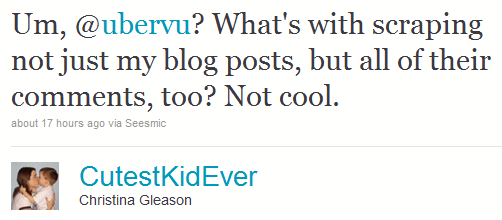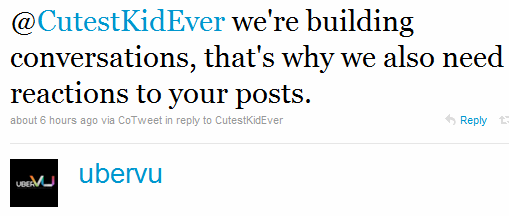 So they think it's cool to scrape your blog posts and your comments to build a conversation on their site. A conversation that started when you wrote a post, tweeted about it, and elicited comments from your own readers. A conversation which Ubervu thinks they can just swipe and continue over on their site.
I was told via email that there was some sort of glitch that made the full text of my post available on their site instead of just an excerpt. But the fact that my comments were there, too, really got me. And the comments were there intentionally.
I don't spend my intellectual energy writing a compelling post that inspires people to comment just to let some automated content scraper come and take the conversation over onto their site.
I highly recommend you search their site for your blog listings. My search for [cutestkidever.org site:ubervu.com] returned 375 results, so their scraping was quite extensive. Then you can use Ubervu's handy contact form to request removal of your site from their index. For good measure, you can tweet a warning about @Ubervu to your followers on Twitter so they can check it out for themselves and decide whether or not they want their scraped content to remain on the site.
Update: Scroll down to see Ubervu's response from Dragos. I appreciate the quick response and the willingness to make things right.