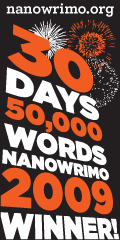 If you don't know what NaNoWriMo is, you're obviously not a writer. NaNoWriMo is the shorthand term for National Novel Writing Month, an annual event where aspiring novelists gear up to write an entire 50,000+ word novel in the month of November. It's something I'd tried doing before, but always ended up dropping out before I'd really gotten started.
This year? I did it. And I feel like a masochist, especially since I started over on November 14. My first attempt had hit a dead end. I reached 50,086 words at 11:39 pm last night with 21 minutes to spare. So what have I learned?
Fiction is hard.
Characters don't always do what you want them to do.
Knowing how the story ends doesn't really help you get through the middle any easier.
The built-in thesaurus feature is awesome.
It's insanely difficult not to edit as you're writing.
It takes longer to write 1,000 words of fiction than 1,000 words of non-fiction.
Family members need to disappear when it's writing time.
Asking me "How's it coming?" when I'm in the middle of typing will make me lose my train of thought – and then get very angry at you.
Writing 5,000 words in a sitting turns your brain to mush.
It feels good to be done!
How about you? If you participated in NaNoWriMo, what did you learn – about writing and about yourself?