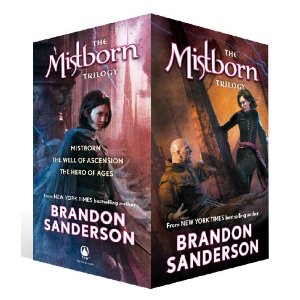 I'm an avid reader, and my favorite genre is fantasy. Most recently, I devoured the Mistborn trilogy (Mistborn, The Well of Ascension, The Hero of Ages) by Brandon Sanderson. I never would have picked them up if Sanderson hadn't been chosen to finish Robert Jordan's Wheel of Time series after the author's untimely death to amyloidosis, but I couldn't put the books down once I started.
There was a major problem, though. The books made me angry.
And after finishing the third novel Friday night and finding myself unable to fall asleep for two hours because of how much I hated the ending, it got me thinking about why it bothered me so much. These are things that writers really need to keep in mind. (With an actual book review at the end that many of you will choose to skip. And psst… that image is an Amazon affiliate link in case you'd like to buy the set and see what I'm talking about.)
You need to relate to your audience.
This is something that Brandon Sanderson got right. In fiction, relating to your audience is done by creating characters that your readers can become invested in. I was sucked in to the strange world of the Final Empire because I was so drawn to Vin, even though the setting was so completely foreign to me. (And as a fantasy reader, it takes a lot for a setting to just seem so odd.)
If you're not writing fiction, this rule still applies. You have to give your readers a reason to care about what you've written, or else they're just not going to bother with it. Writing to promote a product? A news story? Make sure people see why they should care about it in the first few lines. If they're not feeling it, they're not going to continue reading.
Once you know the rules, you can break them. But only in moderation.